CC Original Travel-Inspired Designs
All of our current fashion collections can trace their origins to a specific destination somewhere in the world. Even as I continue to work primarily in France and Italy, new areas of inspiration include Iceland, London, and Barcelona. Being open to the possibilities of new locations offers opportunities to explore different styles and techniques, and so I embrace the new. What I have learned over the last two decades or so is that this is who I am as a designer, and this is what gives Christian Caine its unique identity.—Christopher
Art!  From concept to finished jewelry collection… Porte d'Italia© comes to life. Click the link below to learn about the process.
Porte d'Italia—Doors of Italy
A Case Study in Travel-Inspired Design
Decorative, wrought-iron transoms are common throughout central Italy where the summers are very hot and humid. Once I started noticing them I became fascinated by the variety of styles used in their creation. I especially liked this one I discovered near the Pitti Palace, not only for its design, but for its deeply textured patina that can only come from long exposure to the elements.—Christopher
The Inspiration
Central and southern Italy are very hot in the summer. In the days before air conditioning, transom windows were commonly installed above street-level doors which allowed cooling breezes in, but kept intruders out. The variation of designs seems endless and there may be a few new "Porte" designs yet to come.
The Design
Although the basic form is a direct translation of the transom's original lines into a smaller size, I wanted to convey as much of the original texture as possible. I also needed to provide a means for attaching the new design to a chain, earring wires, and a ring shank. I started working on the details during an afternoon break at a café.
Production
With my design already established, the new piece went into production almost immediately upon my return to the Shepherdstown Showroom. Because I created the Model using Computed Aided Design, my Design Team could begin actual production while I was still in Italy. The combination of technology with old world jewelry fabrication techniques & artistry has unlocked Christian Caine's breadth of design.
The Details
All Porte d'Italia pendants are highly detailed and textured. The bail is made of hand-twisted 14k rose gold. Each gemstone version of the pendant measures approximately one inch across.
.
Our Porte d'Italia comes in diamond and colored gemstone versions. Diamond pendants are offered in the standard 1″ size and a smaller, 3/4″ size, and are available in an all 14k rose gold option.
.
The ring versions of Porte d'Italia features a unique by-pass shank design, and each features the same level of detail and texture as the larger pendants.
.
The 18-inch chain's simple toggle closure is ornamented by a 14k rose gold quatrefoil element, our signature touch on this exclusive item.
Create a Customer Account
Before you start browsing, take a few seconds to sign up for customer account. This will allow you to access your Wishlist items from other devices and to share them with friends.
Our Travel-Inspired Designs
2023 National Design Finalist
We are honored to be recognized as one of the few finalists among 145 talented designers in the prestigious, national design award for Barcelona Modernisme©
Barcelona Modernisme©—Our Newest One-of-a-Kind Creation
Why Barcelona?
Barcelona held a particular appeal to me due to its relationship to the modernisme movement.  This eclectic movement, a favorite of mine, began at the end of the 19th century and spread across Europe.  In France, you would recognize it as Art Nouveau, however this curvy and colorful approach went by many names and it literally transformed Barcelona.

Architecture changed Barcelona dramatically and no one was more influential than Antoni Gaudi. Barcelona is the city with the highest number of modernist buildings on the World Heritage List with a total of nine, of which seven were created by Gaudí.
Along wtih Gaudi, I was influenced by the rich Catalan culture. Despite being less renowned than its more famous Spanish cousin, Catalonia boasts a rich history as well as its own unique traditions and cuisine.
The Design
Barcelona Modernisme© is my interpretation of the art, architecture and culture of this amazing city.
An artistic layout of colorless & colored diamonds adorns this sinuous outline of rose gold.  The open organic windows are a direct omage to Gaudi and flowing lines give reference to the mediterranean coastline bordering the city.
The back of the design dances with spectral colors as the organic shapes share space with special hand engraved sculptural motifs   Rose gold wire is shaped by hand creating this omage to modernisme.
I hope you enjoy.
~Christopher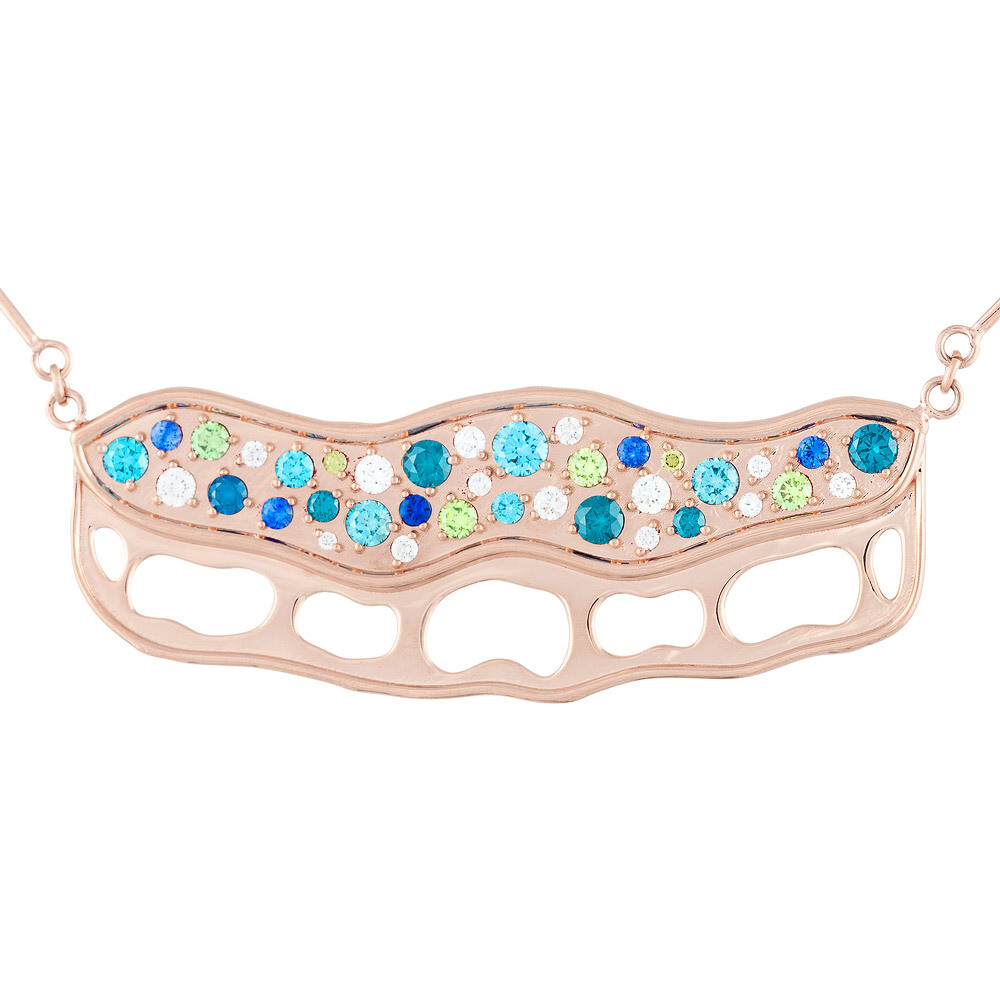 Shop our many other travel-inspired design collections